The idea of that project is coming from Canada where I had to analyze the daily job offers published by some websites. I wanted to extrapolate the analysis to the Belgian market and more precisely to the SAS/Python job offered in Brussels.
I registered for 3 job agents with the same keyword and location and configured them to send daily job offers to a single outlook mailbox. Then I scraped all the mails using Python and created a CSV file containing all the job offers. These job offers are then visualized in Google Data Studio.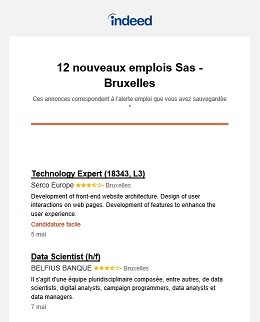 The 3 job agents used in the project are: Indeed , LinkedIn and ICTJobs . For all of them, I used the keyword 'SAS'/'Python' and location 'Brussels' and configured it to receive daily email. These emails are all in HTML format, they all have a header, a footer, and a body to parse. From the body, I'm only interested by the company name, the job title, location and offer date. In the above example, the jobs are displayed in block of lines. The job title is on first line, followed by the company name and city in the second line (separated by a dash), then comes the job description, some information on the way to postulate and finally the date.
Daily, I query the messages present in the outlook database using Python with mainly 3 packages: win32com.client to access the outlook database, BeautifulSoup to parse the html pages and Pandas to gather and reshape data. I found some examples on internet to know how to use the first and second packages : Codementor, Twilio. Then I generate a CSV and consume it with Google Data Studio where I can play dynamically with the histograms and discover the information I want.
The collected information is very interesting and gives you a nice view on the companies using actively SAS/Python in Brussels: for one who wants to know which customer is using SAS, which customer is actively looking for candidates, when did the customers started to post their job offers, the peak – off peak regarding the number of job offers over time, what kind of profile the customers are looking for… if you are looking for a SAS or python job in Brussels, it's perfect tool !
Please find below that report, feel free to use it or share it. Data are updated every week day morning.